Seck Chuan Lane, within George Town's UNESCO World Heritage Site, is a narrow T-shaped lane linking Chulia Street to the north, Buckingham Road to the south and Carnavon Street to the west.
The lane was named after Khoo Seck Chuan, one of the largest landowners in 19th. century George Town. His mansion was also located along the lane.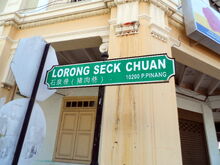 Etymology
Seck Chuan Lane was named after Khoo Seck Chuan, a landowner who had his mansion at the lane in the 19th. century.
The Chinese called the lane Tua Mui Lau Lai in Hokkien and Tai Mun Lau Lung in Cantonese, both meaning 'the rear side of the huge entrance arch'. They referred to the two huge entrance arches along Seck Chuan Lane and facing Chulia Street. At the time, the lane led to Seck Chuan's huge mansion.
In addition, Seck Chuan Lane was known to the Hokkiens as Tu Bak Hang, meaning 'pork-selling alley'. It alluded to a busier past, when market produce, including pork, were distributed along the lane.
History
Seck Chuan Lane has been in existence since at least the late 19th. century. Khoo Seck Chuan, one of the biggest landowners in George Town at the time, had his mansion built at the lane. Notably, Seck Chuan was also a member of the board of directors of the Khoo Kongsi and Khoo Hock Keong (Goddess of Mercy Temple).
In the past, Seck Chuan Lane served as a distribution centre for market produce, including pork. Hawkers would also serve dishes and delicacies around the busy lane, such as the Ting Ting Thong rock candy.
Street Art
The Rock Candyman wrought iron sculpture has been installed near the northern junction with Chulia Street. Its description is as follows.
Seck Chuan Lane was a distribution centre for market produce. Many itinerant hawkers took advantage of the crowds by plying their food here. One of the favourite foods sold is Ting Ting Thong or rock candy, a hardened mixture of sugar, seeds and nuts loved by kids. It has to be chiselled and hammered to break it up into smaller biteable pieces.
Political Representation
Penang State Government
N.26 Padang Kota State Assemblyman : Chow Kon Yeow (Democratic Action Party)
Malaysian Federal Parliament
P.049 Tanjong Member of Parliament : Ng Wei Aik (Democratic Action Party)
References
Ad blocker interference detected!
Wikia is a free-to-use site that makes money from advertising. We have a modified experience for viewers using ad blockers

Wikia is not accessible if you've made further modifications. Remove the custom ad blocker rule(s) and the page will load as expected.