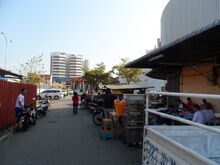 Samak Road is a short road off Dato' Keramat Road within the George Town city centre. It now serves as a residential road, with apartments lining the street.
Unlike the adjoining Bukom Road and Tekong Road, both of which were named after two of the islands within the Republic of Singapore, the name Samak was of Thai origin.
 Political Representation
Penang State Government
N.29 Dato Keramat State Assemblyman : Jagdeep Singh Deo (Democratic Action Party)
Malaysian Federal Parliament
P.050 Jelutong Member of Parliament : Ooi Chuan Aun (Democratic Action Party)
References
Ad blocker interference detected!
Wikia is a free-to-use site that makes money from advertising. We have a modified experience for viewers using ad blockers

Wikia is not accessible if you've made further modifications. Remove the custom ad blocker rule(s) and the page will load as expected.