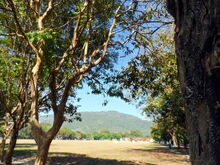 The Polo Ground, within the western part of George Town proper, is a field located in front of Seri Mutiara, the official residence of the Governor of Penang. It is bounded by Sepoy Lines Road to its north and west, Residency Road along its eastern side and Western Road along its south.
The field has been in use since the late 19th. century, when British Army facilities were moved towards the vicinity. It is now used primarily for recreational and sports activities, as well as the Penang Hot Air Balloon Fiesta every February.
History
The field was created towards the end of the 19th. century as the new parade ground for British Army units stationed in George Town. At the time, the British Army was in the process of relocating its barracks out of the crowded centre of George Town towards the western edges of the town.
While the Indian sepoys were housed in their barracks along Sepoy Lines Road, the Polo Ground was cleared and turned into a military parade ground substituting the Padang at The Esplanade in the heart of George Town.
Also, the Polo Ground, as its name implies, was used for polo matches and horse-riding activities during the colonial era. The horses were taken from the nearby Penang Turf Club. To this day, horses can be seen walking occasionally at the Polo Ground.
Due to its proximity to the Penang General Hospital, the Polo Ground has been gazetted as an emergency landing pad for helicopters, enabling military helicopters to airlift casualties to the hospital.
Until the 1990s, when the Polo Ground was finally closed off to vehicles, the field was also a lovers' haunt, where drivers and motorcyclists would bring their lovers to the relatively secluded parts of the field in the evenings. On occasion, cars could be seen stuck in the small trenches surrounding the field, and drivers had to wait until the following morning for help.
Today, the Polo Ground is being primarily used for recreational and sports activities, including football. More recently, it has been chosen as the venue for the annual Penang Hot Air Balloon Fiesta.
References
Cheah J. S., 2013. Penang 500 Early Postcards. Editions Didier Millet.
Ad blocker interference detected!
Wikia is a free-to-use site that makes money from advertising. We have a modified experience for viewers using ad blockers

Wikia is not accessible if you've made further modifications. Remove the custom ad blocker rule(s) and the page will load as expected.