Welcome ! Selamat Datang ! 欢迎 ! வணக்கம் !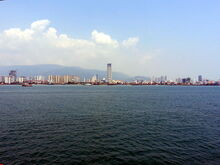 Curious about Penang Island ?
What is so special about George Town, one of the most famous tourist destinations in Southeast Asia ?
What are the current issues in Malaysia's most important island city-state ?
Find out more here, a Penang wikia, made by Penangites.
A little bit of intro...
The former British colony of Penang Island at the Strait of Malacca has been gaining popularity throughout the world as a tourist destination. From a sparsely-uninhabited island in the 18th. century, this melting pot of cultures grew into one of Malaysia's major cities.
Therefore, this Penang wiki, made only by local Penangites, is created for Penangites as well as the world.
For the sake of clarity, this wiki focuses on Penang Island, even though the state of Penang consists of both Penang Island and a strip of mainland Peninsular Malaysia called Seberang Perai.
Categories
City Centre
Penang Street
Muntri Street
Armenian Street
Penang Road
Modern City Centre
Skyscrapers
Shopping Centres
Schools
Streets
Other Places
Suburbs
Schools :
Governance
Symbols of Penang
Current Issues in Penang
History of Penang
Governance
World War 1
World War 2
Ad blocker interference detected!
Wikia is a free-to-use site that makes money from advertising. We have a modified experience for viewers using ad blockers

Wikia is not accessible if you've made further modifications. Remove the custom ad blocker rule(s) and the page will load as expected.