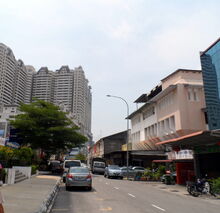 Jalan Perlis is a short road off Dato' Keramat Road within the George Town city centre. It runs between Jalan Selangor to the north and Dato' Keramat Road to the south.
The road was created in the early 20th. century, when the urban population of George Town was spilling westward out of Penang Road.
Etymology
Jalan Perlis was named after the Sultanate of Perlis, the northernmost state in Malaysia and the smallest Malaysian state. Perlis, located about 170km north of George Town, borders the Kingdom of Thailand to the north, and the Sultanate of Kedah to the south and west.
History
George Town continued expanding westwards out of Penang Road at the turn of the 20th. century. As a result, several new roads off Dato' Keramat Road, including Jalan Perlis, were created and named after the component states of the then British Malaya.
Political Representation
Penang State Government
N.28 Komtar State Assemblyman : Teh Lai Heng (Democratic Action Party)
Malaysian Federal Parliament
P.049 Tanjong Member of Parliament : Ng Wei Aik (Democratic Action Party)
References
Ad blocker interference detected!
Wikia is a free-to-use site that makes money from advertising. We have a modified experience for viewers using ad blockers

Wikia is not accessible if you've made further modifications. Remove the custom ad blocker rule(s) and the page will load as expected.