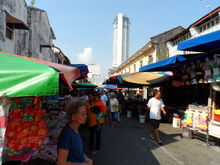 Jalan Kuala Kangsar is a narrow two-way road within George Town's UNESCO World Heritage Site. It runs through George Town's Chinatown, between Campbell Street to the north and Prangin Road to the south.
The road was named after the royal town of the neighbouring Sultanate of Perak. In the past, a form of Malay theatrical performance named Bangsawan would be performed along the road.
Every morning, a street market occupies the northern stretch of Jalan Kuala Kangsar. Here, one can find anything from poultry and vegetables, to clothes and electronic accessories, all at dirt cheap prices.
Etymology
The road was named after Kuala Kangsar, the royal town of the neighbouring Sultanate of Perak. The town is where the Sultan of Perak officially resides.
The road was also known as Jalan Bangsawan in Malay, meaning Bangsawan Street. Bangsawan, which means noblemen in Malay, is a type of Malay opera which originated on Penang Island in the 1870s. Malay troupes would perform Bangsawan plays along Jalan Kuala Kangsar, hence its nickname.
The Chinese also called the road Hoan-A Hi Hui Kay and Ma Lai Huan Kai in Hokkien and Cantonese respectively. Both terms meant the Street of Malay Theatre.
History
Jalan Kuala Kangsar has been in existence since the late 19th. century. At the time, the road was famous for the Malay Bangsawan troupes who performed their plays along the road.
The New Theatre was later constructed at the adjacent Drury Lane, replacing the older opera stages. In the early 20th. century, Chinese operas troupes would also perform within the New Theatre.
Since the mid-20th. century, Jalan Kuala Kangsar is better known for its street market, which opens every morning.
Notable Landmark
Street Market
Between 0600 hours and noon daily, a street market occupies the northern stretch of Jalan Kuala Kangsar between Campbell Street and Kimberley Street, just behind Chowrasta Market. Vendors here sell anything from vegetables and poultry, to electronic accessories and clothes, all at dirt cheap prices.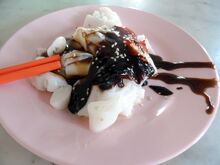 Food
A chee cheong fun stall at the junction between Jalan Kuala Kangsar and Kimberley Street sells among the best Penang chee cheong fun. It operates between 0730 hours and 1130 hours daily except Monday, catering to market-goers. It was visited by the famous Hong Kong chef, Martin Yan, in 2015.
Near the chee cheong fun stall, along Jalan Kuala Kangsar proper, is a stall serving delicious Indian apom, a type of pancake. Reputedly serving among the best Indian apom in George Town, Martin also visited the stall in 2015.
In addition, there are a number of coffee shops along Jalan Kuala Kangsar, most of which open in the mornings to cater to the crowds along the street market.
Piccadilly Bazaar Coffee Shop
Soon Yuen Coffee Shop
Baru Hari-Hari Datang Coffee Shop
Leong Yew Coffee Shop
Ban Aun Coffee Shop
One can also buy Chinese and Peranakan baked delicacies, such as kuih, within the street market.
Political Representation
Penang State Government
N.28 Komtar State Assemblyman : Teh Lai Heng (Democratic Action Party)
Malaysian Federal Parliament
P.049 Tanjong Member of Parliament : Ng Wei Aik (Democratic Action Party)
References
Khoo S.N., 2007. Streets of George Town, Penang. Areca Books.
http://www.lonelyplanet.com/malaysia/peninsular-malaysia-west-coast/georgetown/restaurants/market/kuala-kangsar-market
Ad blocker interference detected!
Wikia is a free-to-use site that makes money from advertising. We have a modified experience for viewers using ad blockers

Wikia is not accessible if you've made further modifications. Remove the custom ad blocker rule(s) and the page will load as expected.