Ghee Hiang Headquarters at Beach Street, within George Town's UNESCO World Heritage Site, has been home to the oldest tau sar pneah maker on Penang Island since its foundation in 1856. Other than its tau sar pneah, which has become a must-buy delicacy for tourists visiting Penang Island, Ghee Hiang is also well-known for its signature sesame seed oil, which is claimed to contain several medicinal properties.
Today, the company has branches at Burmah Road, Macalister Road and the suburb of Farlim, as well as a sesame seed oil factory within the southern suburb of Jelutong.
History
In 1856, a pastry chef was invited from Fujian Province in Qing China. With the recipes brought along from Fujian, which are classified to this day, Ghee Hiang was established to produce tau sar pneah biscuits.
The company set up its headquarters within the-then Chinese commercial centre at the southern stretch of Beach Street. Ghee Hiang's headquarters is also the oldest of its branches on Penang Island.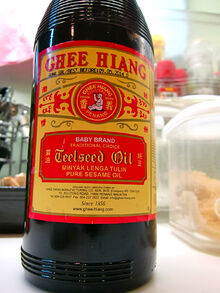 In the 1930s, Ghee Hiang began producing its trademark sesame seed oil. It has been claimed that Ghee Hiang's sesame seed oil has several medicinal properties. For instance, it is said to generate chi, or warmth, that helps expectant mothers to recover their energy quickly.
Opening Hours
Monday - Saturday : 0900 hours - 1800 hours
Political Representation
Penang State Government
N.27 Pengkalan Kota State Assemblyman : Lau Keng Ee (Democratic Action Party)
Malaysian Federal Parliament
P.049 Tanjong Member of Parliament : Ng Wei Aik (Democratic Action Party)
References
Hockton, K., Howard Tan, 2012. Penang : An Inside Guide to Its Historic Homes, Buildings, Monuments and Parks. MPH Group, Kuala Lumpur.
Ad blocker interference detected!
Wikia is a free-to-use site that makes money from advertising. We have a modified experience for viewers using ad blockers

Wikia is not accessible if you've made further modifications. Remove the custom ad blocker rule(s) and the page will load as expected.