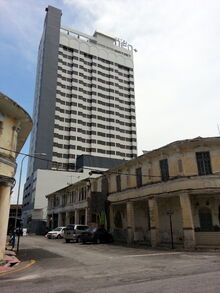 Chetty Lane is a very short no-through lane within the George Town city centre. Located within the city's Seven Streets Precint (chit tiau lor in Penang Hokkien), it branches out of Noordin Street, stretching for 35 metres before coming to a dead end.
This narrow lane is lined with decrepit double-storey Chinese Eclectic-style terrace houses, while diagonal parking lots take up its western side. With the parking spaces deterring drivers from making a U-turn to exit the lane, one would have to slowly reverse his/her vehicle towards Noordin Street.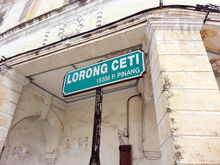 Etymology
To this day, it is still unknown how precisely Chetty Lane got its name. It was either named after the Chettiar community from southern India, or someone by the name of 'Chetty'.
Political Representation
Penang State Government
N.27 Pengkalan Kota State Assemblyman : Lau Keng Ee (Democratic Action Party)
Malaysian Federal Parliament
P.049 Tanjong Member of Parliament : Ng Wei Aik (Democratic Action Party)
References
Ad blocker interference detected!
Wikia is a free-to-use site that makes money from advertising. We have a modified experience for viewers using ad blockers

Wikia is not accessible if you've made further modifications. Remove the custom ad blocker rule(s) and the page will load as expected.