Anson Bridge is a relatively short, nondescript bridge within the heart of George Town. It runs along the eastern edge of the now-defunct Sia Boey Market, connecting the southern end of Beach Street with the northern end of Bridge Street (now C.Y. Choy Road)
Today, the bridge appears unassuming and is easy to miss for the untrained eye, as it is at street level. However, in the past, the bridge was a crucial link across the Prangin Canal, linking George Town with the hinterlands to the south of the canal.
Etymology
Anson Bridge was named after Sir Archibald Edward Harbord Anson, who served as Lieutenant-Governor of Penang between 1867 and 1882.
History
Built in 1880, Anson Bridge straddles the Prangin Canal, and once served as the only link between George Town and the hinterlands south of the canal. At the time, George Town extended only as far as the northern bank of the Prangin Canal, while the southern bank remained a rural area covered in mangrove swamps.
The bridge was designed as an arch bridge that was higher than the surrounding roads. This design allowed boats and sampans to pass underneath the bridge.
Over the years, the roads around Anson Bridge, such as Prangin Road and Beach Street to the north, and Magazine Road and Bridge Street to the south, have been repeatedly repaved. Consequently, the bridge now appears to be at street level and insignificant to the untrained eye. One would also easily miss the bridge due to the lack of signage.
Also, the higher roads have led to more flooding around the area, especially after heavy downpour.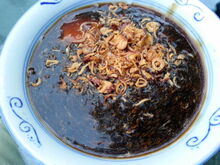 Food
The Bridge Street Hokkien mee stall at the eastern side of Anson Bridge serves both Hokkien mee and lor mee between 0700 hours and 1430 hours daily.
Political Representation
Penang State Government
N.27 Pengkalan Kota State Assemblyman : Lau Keng Ee (Democratic Action Party)
Malaysian Federal Parliament
P.049 Tanjong Member of Parliament : Ng Wei Aik (Democratic Action Party)
References
Hockton, K., Howard Tan, 2012. Penang : An Inside Guide to Its Historic Homes, Buildings, Monuments and Parks. MPH Group, Kuala Lumpur.
Ad blocker interference detected!
Wikia is a free-to-use site that makes money from advertising. We have a modified experience for viewers using ad blockers

Wikia is not accessible if you've made further modifications. Remove the custom ad blocker rule(s) and the page will load as expected.